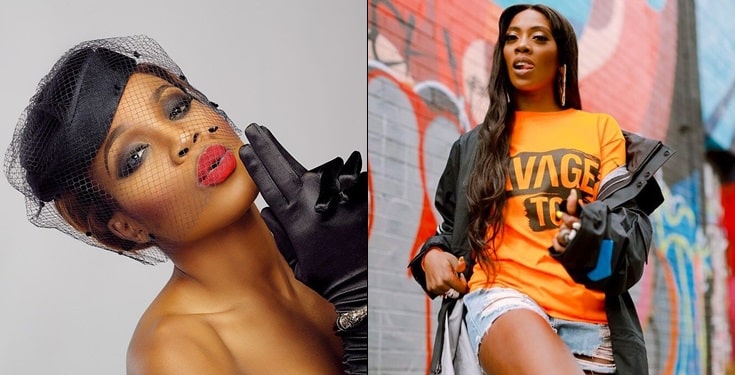 Kenyan musician, Victoria Kimani has become a hot discussion on Twitter after she released her own cover of Kizz Daniel's #FvckYouChallenge, earlier today.

In her cover, Kimani dissed Nigerian artistes, Singer Tiwa Savage and rapper Ycee.

She accused Ycee of stealing lyrics without giving credits and called Tiwa a Grandma that still sells p*ssy.

Fans of Savage and Ycee have since given Kimani a piece of their mind but the one being roasted now, is Seyi Shay.

Seyi Shay is currently receiving the heat for supporting Kimani's diss cover about her colleagues.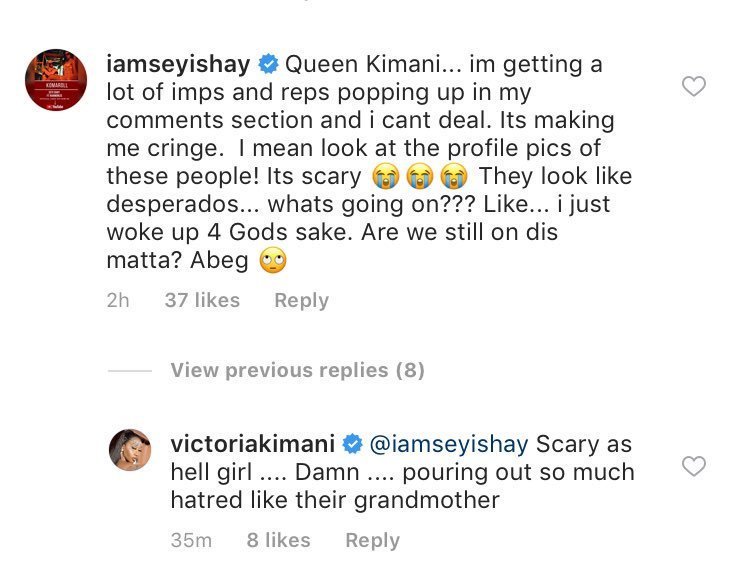 I still don't know why all these girls be hating on tiwa, just because wizkid is rolling with her Omo jealousy day oo, yemi alade,seyi Shay now Victoria kimani just cuz of wizkid oga oo


— OTEDOLA SON (@0902_652) April 3, 2019

Like Victoria Kimani slut shaming Tiwa Savage and Seyi Shay cheering?


I'd rather not speak, please!! 😂😂😂

— The Upcoming Artist Guide (@Thejollofdiary) April 3, 2019

So after Victoria kimani childish behavior, Seyi shay went ahead to cheer her. 
I just deleted her song ft runtown on my phone. 
Both of them are mad. 
Who's next please?


— Baba Oja🇳🇬 (@ajobomido) April 3, 2019

Seyi Shay deserve to diss Tiwa Savage at least she was the one enjoying Wizkid fame before then Tiwa snatched him.


I can see where her pain is coming from. But Kimani? What's are own?

— Standard Presenter 👌 (@ItsOladeni) April 3, 2019

Seyi Shay really disappointed herself, what the hell was she thinking.


— FIKAYO (@adefikayooye) April 3, 2019

Copy the link below and Share with your Friends: